It doesn't have to be lonely at the top!  Our Boston-based CEO Roundtable brings CEOs, Presidents and business Owners together for candid, solution-seeking discussions that focus on the challenges and pressures unique to top-level management.
CEO Roundtable is made up of private, peer advisory groups of 8 to 12 members from non-competing companies. These peer groups provide a forum for invigorating exchanges of information, ideas, and insights. And, because they are completely confidential, peer groups provide a secure environment for discussing any sensitive issues or concerns a member may be facing in his or her company.
2017 Annual Member Retreat
Artist Linda Naiman Helps CEOs See the Big Picture
In 20 years of annual CEO retreats we have repeatedly explored the arts and humanities — poetry, classical music, jazz, mythology, Shakespeare, Homer, Beowulf — to learn more about ourselves and our world.  This year we looked to the visual arts for guidance.
Artist and author Linda Naiman, founder of Creativity at Work, lead the Retreat and invited Roundtable members to view art as an invitation to have a conversation. Artful reflection helps us identify patterns, decode complexity, seek new perspectives, and enables a deeper inquiry into matters of importance in our lives and companies.
Art is a potent catalyst for dialogue, reflection, and can be a process for self-discovery. One business leader in attendance summed it up, "The are in leadership is to make space for others and incorporate their ideas."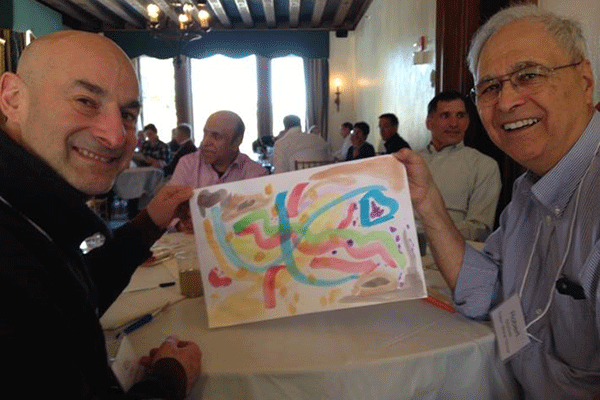 Eric Furfine of ImmuneXcite and Bob Glorioso of Tower Stone Group share a painting exercise at CEO Roundtable's 2017 Member Retreat.
Johns Hopkins team studies effectiveness of animal testing in predicting toxicity in humans
To view the full story click here
Katya Tsaioun
Founders of S+H Construction announce President, Sarah Lawson, to purchase company, carry on design/build tradition.
To view the full story click here
Sarah Lawson