What's Happening at CEO Roundtable
Celebrating twenty years in business!
Special Event: How Customers Buy…& Why They Don't
Join us on September 28th for an informational event with book author Martyn R. Lewis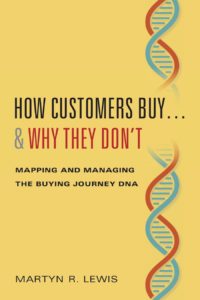 Martyn Lewis has written what I believe to be a seminal work in the evolution of commercial success in the early part of the 21st century. In this 3-hour workshop, he takes us through some of the concepts described in his book, including:
3rd Generation of Customer Buying
The dramatic changes in how customers buy
Decoding your market's Customer Buying Journey DNA
The critical importance of managing the end-to-end buying journey
Outside-In Revenue Generation
Developing your own Outside-In Revenue Generation approaches
If you have not heard of Martyn Lewis yet, you will. This is a unique opportunity to interact with him in an intimate setting as he visits the East Coast to promote this new book.
Date: September 28th, 2018
Location: MA Hospital Association Building – 500 District Ave, Second Floor – Burlington, MA 01803 (Get Directions)

Time: 8am – 12pm
Seating is limited, so register now.
New Chairman Scott Lewis Interviewed on Radio Entrepreneurs
Listen to the radio interview
Radio Entrepreneurs' host Jonathan Freedman interviewed me shortly after I took over the CEO Roundtable from founder Loren Carlson. Jonathan's insightful questions made clear his understanding of the "Power of Peers" and of the value that the Roundtable has brought to the Boston business community in its 22 year history.
We talked about some of the unique situations in which a business leader can find themselves, and how a close and confidential relationship with people in similar circumstances dealing with similar issues can make the difference between success and failure.
CEO Winter Retreat 2014
Where have all the heroes gone? Many may be today's entrepreneurs.
For more than a decade, Loren G. Carlson, founder and chairman of CEO Roundtable, LLC®, has advocated that entrepreneurs should be valued among today's contemporary heroes.
To guide the CEO Roundtable members through a discussion about their own hero journeys, Loren invited Tina Packer, founding creative director of Shakespeare & Company, and Tamar March, former dean of educational programs at Radcliffe College and founder of the Arden Seminars, to lead the January 16-17 annual CEO Roundtable retreat at the Babson College Executive Conference Center in Wellesley. Bonnie DiMatteo and Gerald DiMatteo of Atlantic Consultants helped lead the breakout sessions.
In his welcoming remarks, Loren challenged the CEOs to consider the similarities of their entrepreneurial experiences with the journey of the classic hero, Odysseus, someone who was responsible not for just one heroic act, but for leading a heroic life. This hero's "odyssey" included venturing out on a quest, leaving safety behind, encountering monsters, perhaps placing his family in danger, maturing as a leader, looking out for the welfare of others, overcoming stumbling blocks and temptations along the way, and ultimately making his way home to Penelope and Ithaca.
Tina began the discussion by reading the letter Odysseus sent to Penelope, describing his extraordinary trials, challenges, and experiences. Tamar described the Odyssey as an "after-war story" and noted that Odysseus really became a hero when he became a leader of necessity trying to get his men home. In many ways, she said, "the Odyssey is every person's story."
The CEOs readily identified with the hero's journey. One member described having been a 40-year-old CEO who had done everything he was supposed to do, but was nonetheless fired. He told the group how difficult it had been, and that he was inspired to reread the Odyssey by Homer. He likened the first part of his career to fighting the Trojan War and the second half to trying to reach Ithaca, the home where he wanted to be. His current concern is that he may have reached Ithaca too soon.
Another member, who leads an international life and business, said that determining where home is has been challenging. Others are worried about the future, about how to extricate themselves from the business while protecting the interests of those who own the company, or about finding the right investors. Others spoke about finding that being sacked had actually freed them to pursue the next challenge, or discovering that a fierce loyalty to their people made it hard to move forward.