CEO Roundtable sponsors 3 or 4 seminars and workshops per year. These sessions are generally free or at nominal charge and are geared toward CEO Roundtable members. However, we save a limited number of seats for non-members who wish to attend.
Here are some seminars we hosted recently to give you an idea of the high quality, highly relevant topics we offer for today's business leaders.
Rx for Hiring Pain by Suzanne Paling and Kathleen Teehan
Preparing for Exit by Brad Yount, David Friedman, Bruce Buckland
Developing and Managing a Board by Dr. Elaine Eisenman
Building a Performance Driven Cultureby Dan Gauthier
Get Big Things Done with Saj-nicole Joni
CEO Roundtable also sponsors an Annual Members Retreat that focuses on how the Arts and Humanities can help us increase innovation in our companies and enrich the quality of our lives.
Contact us today about membership in CEO Roundtable.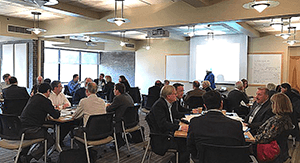 2017 Annual Member Retreat — Why Art?
In 20 years of annual CEO retreats we have repeatedly explored the arts and humanities – poetry, classical music, jazz, mythology, Shakespeare, Homer, Beowulf – to learn more about ourselves and our world.  This year we looked to the visual arts for guidance.
Artist and author Linda Naiman, founder of Creativity at Work, lead the 2017 CEO Roundtable Retreat and invited members to view art as an invitation to have a conversation. Artful reflection helps us identify patterns, decode complexity, seek new perspectives, and enables a deeper inquiry into matters of importance in our lives and companies.
Art is a potent catalyst for dialogue, reflection, and can be a process for self-discovery.
 "What do you see?" Linda Naiman asked the room of CEOs as she called up a slide of an abstract painting. Some said they saw a cat. One attendee said a cat with a rat. Someone else claimed mountains while another saw a cow. Linda advanced to the next slide and there was a cow outlined in bright orange.
"I never saw it," one CEO admitted. "I only looked in the corner, not at the whole canvas."
We studied works by Hans Hofmann, Chris Jordan, Picasso, Henri Rousseau and others as Linda pointed out details and concepts in each. Roundtable members quickly learned that looking at something with different people can provide more points-of-view and discoveries than looking at something alone. It opens up opportunities for creativity.
Linda invited CEOs to paint their own pictures. But there was a twist: they would be creating a painting with a partner, working on the same sheet of paper without speaking. Only when one partner put down his or her paintbrush was the other allowed to take a turn. This exercise was repeated three times. 
Participants found collaboration awkward at first. Some hesitated to move into what they perceived as their partner's space. Others struggled to see where the joint painting was headed. But as boundaries relaxed, the exercise became easier and more relaxed with each consecutive collaboration. Finally, Linda asked each CEO to individually paint "the ideal." Then, participants were asked to step away from their own paintings and make a contribution to another person's painting, being careful to honor what was already there.
Discovering our own personal leadership strengths and weaknesses, the importance of understanding the perspectives of those around us, how to let go of our own perhaps very structured or tight leadership qualities that may restrict our ability to create, how to use a new nonverbal language and vocabulary that is found in the process of art, and that allows a deeper collaboration of mind and body and spirit, that words alone cannot achieve.
For innovation to flourish, organizations must create an environment that fosters creativity; bringing together multi-talented groups of people who work in close collaboration together— exchanging knowledge, ideas and shaping the direction of the future. Organizations led by creative leaders have a higher success rate in innovation, employee engagement, change, and renewal.
Linda Naiman
The art in leadership is to make space for others and incorporate their ideas.
I tend to be too focused on the analytical. I can now see how creative I can be if I allow it.
The lesson is changing your perspective, letting go, and collaborating.
It was amazing! Magical! Educational! Therapeutic! I learned a lot about myself that will help me become a better leader and parent.
The arts are emerging as a role model for business and government organizations because the arts excel in areas where managers struggle the most: chaos, diversity, ambiguity, envisioning the future and the ability to dare to break molds.
The Wall Street Journal
I'm a control freak. I covered every inch of the paper with my idea. I wanted it to be perfect. Now I'm thinking I have to learn to let others blossom and grow…open it up to other people to be creative and innovative and to contribute.
Not only do we have to be on the same page, but I have to leave more space on the page for other people in the organization to contribute.
I learned how to communicate in a new language – the nonverbal language of art. This will help me communicate with my spouse who is losing her ability to speak.